IT IS V V LOTS OF IMAGES AND SUCH, SO YES. LJ CUT!!!!
HERE WE SEE SCULLY IN THE PILOT EPISODE. AS YOU MAY KNOW, PILOT EPISODES ARE FILMED LIKE FIVE YEARS BEFORE THE SHOW IS EVEN PICKED UP BY EXECUTIVES AND THE SECOND EPISODE IS FILMED ETC. EITHER THIS IS A WIG, OR GILLIAN ANDERSON HAD A REALLY QUICK AND REALLY BAD DYE JOB, BECAUSE WE ALL KNOW THAT GILLIAN ANDERSON IS A NATURAL BLONDE AMIRITE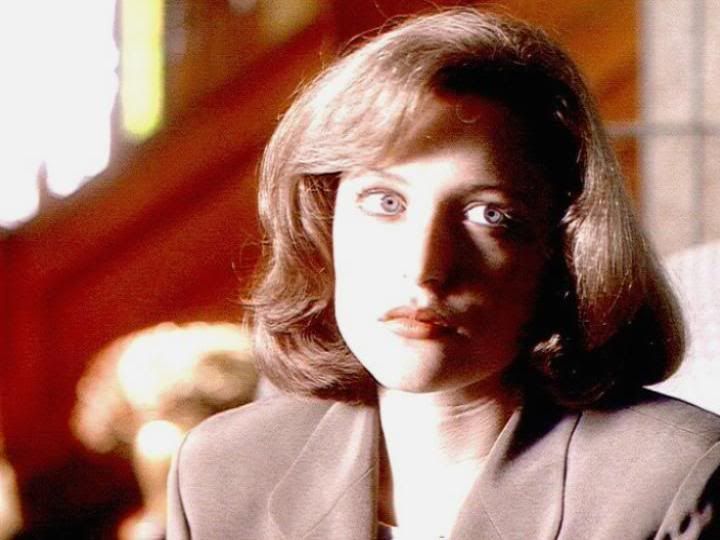 HERE IN DEEP THROAT WE SEE SCULLY HAS SHORT HAIR AND SWEEPING HAIR PART THAT ALMOST LOOK LIKE BANGS. SHE ALSO HAS POOFY FLIPPY CURLY THINGS THAT CURL INTO HER NECK AND NOT OUT, WHICH IS VERY GOOD IN MOST CIRCUMSTANCES (IE THE EARLY 90S).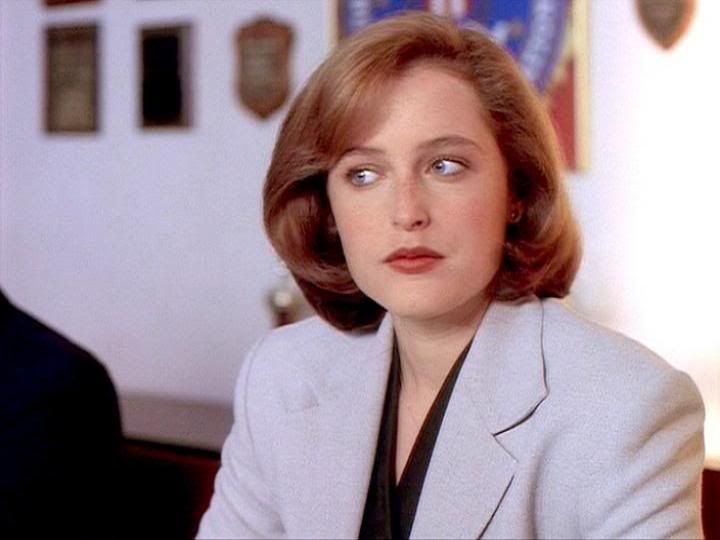 AGAIN WE SEE THE SHORT FLIPPY HAIR IN SQUEEZE, THOUGH IT IS NOT AS PRONOUNCED AS THE EPISODE PREVIOUS.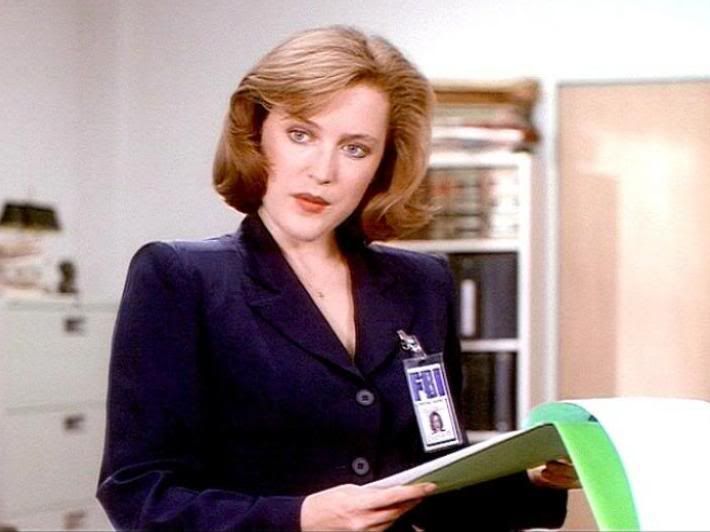 LOOK AT THE BANGS. ALSO, HER HAIR FLIPS OUTWARD AT THE BOTTOM INSTEAD OF INWARD LIKE BEFORE.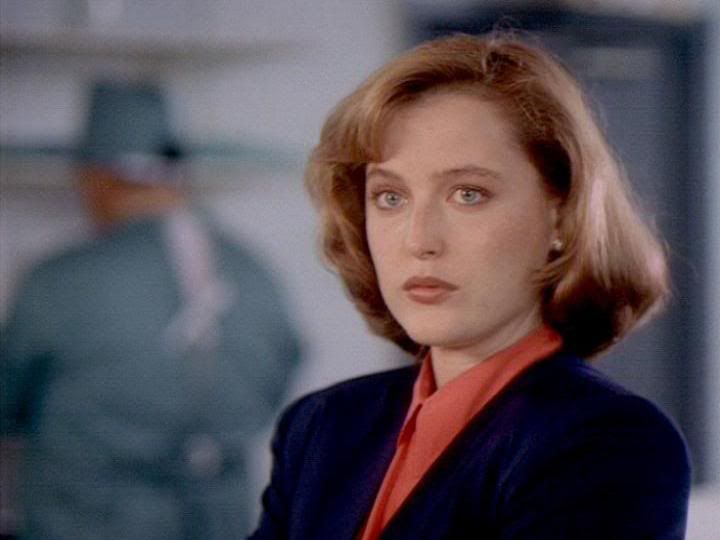 HER SIDE PART WHOOSHY HAIRS ARE SMALLER AT THIS POINT, AND HAVE A NEAT LITTLE CURL TO THEM. ALSO, HER HAIR HAS RETURNED TO FLIPING INWARD.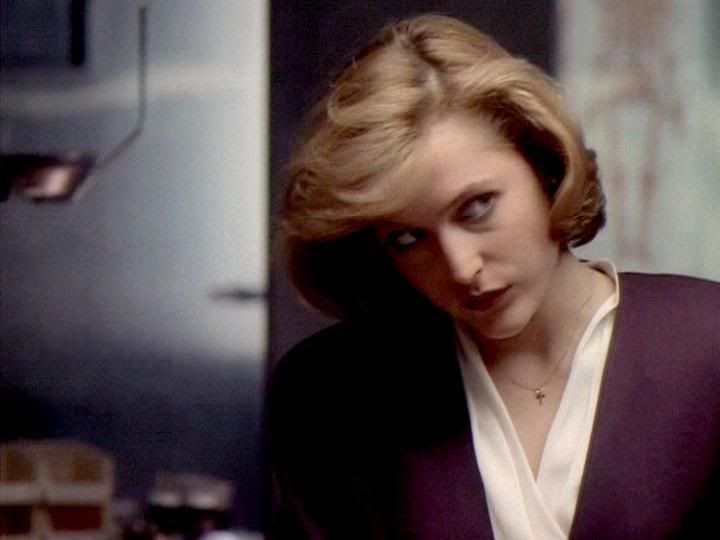 HER HAIR IS FLUFFY, AND HER SIDE-PART HAIRS AT TOP ARE FULLER. HER HAIR FLIPS OUTWARD AT THE BOTTOM. HER HAIR IS SHORTER, WHICH IS PROBABLY THE REASON FOR THE OUT-FLIPPING.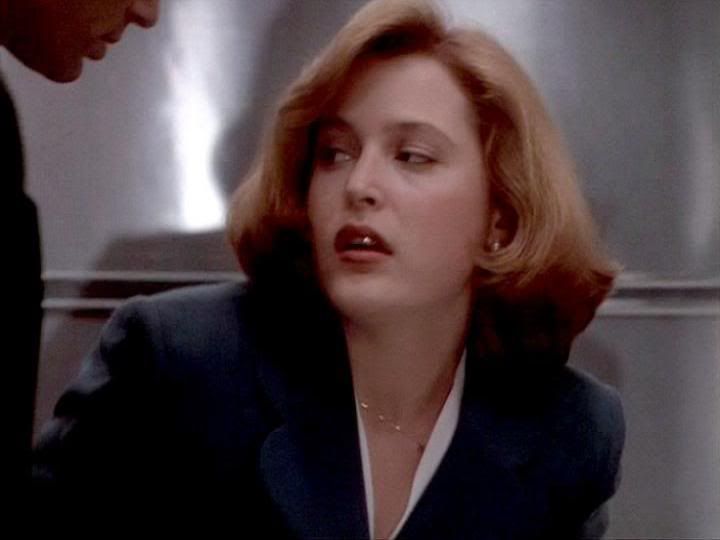 GHOST IN THE MACHINE SHOWS SCULLY'S HAIR LONGER THAN HER HAIR IN SHADOWS, AND ONE WILL NOTE THE INWARD FLIPPING OF HER HAIR.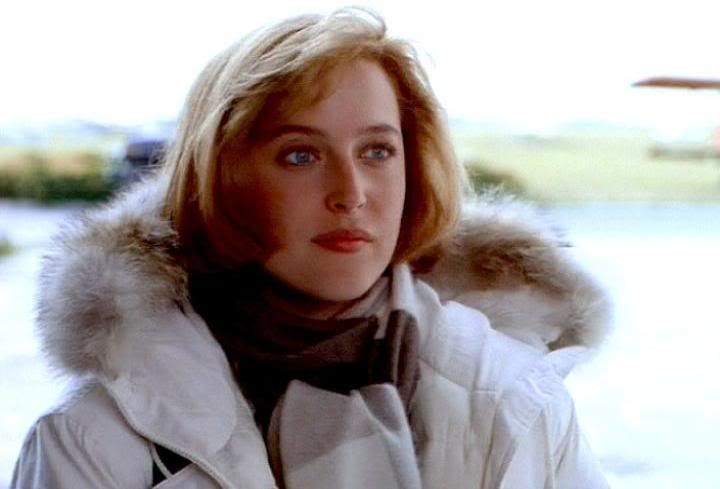 EVEN WITH A FUZZY COAT, SCULLY'S HAIR IS NICE AND NEAT.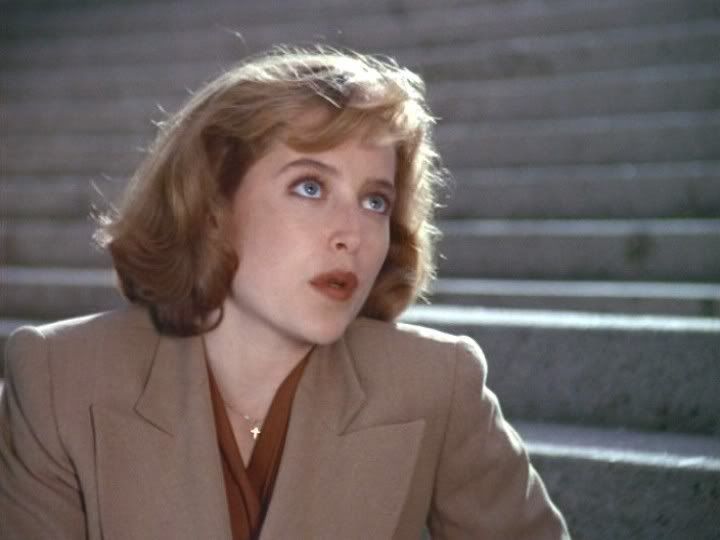 HER HAIR IS FULLER AND SLIGHTLY SHORTER IN SPACE.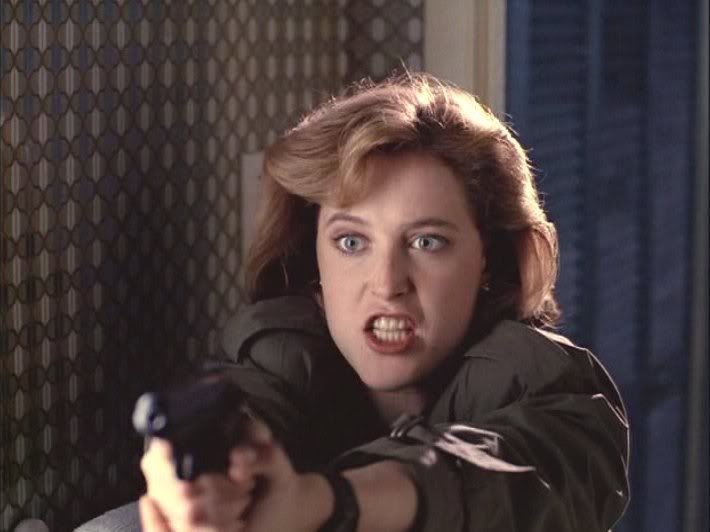 IN FALLEN ANGEL, HER HAIR IS KIND OF UGLY SRY2SAY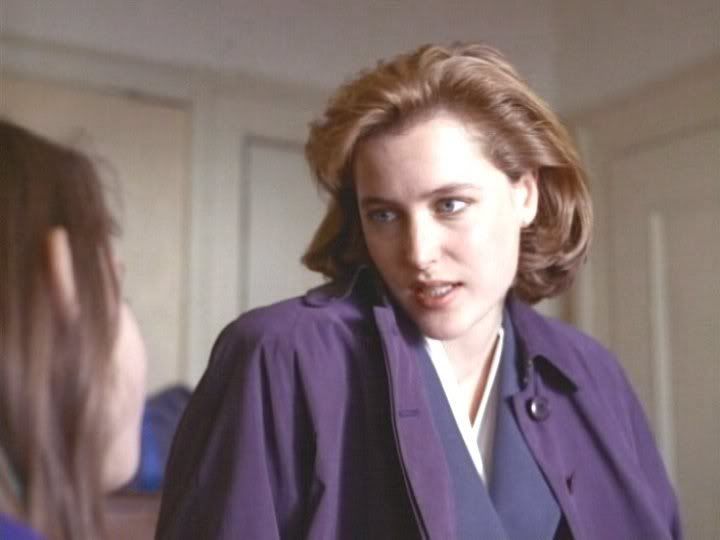 IN EVE, HER HAIR IS PULLED BACK MORE AND HER TOP HAIRS ARE CURLED BACK.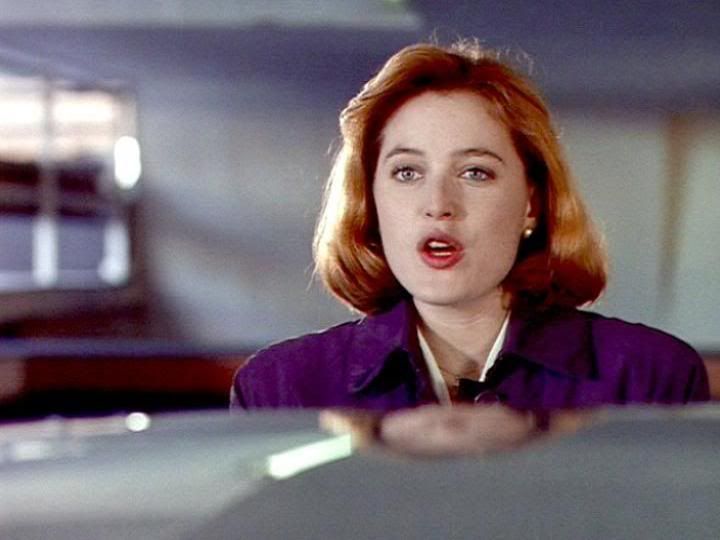 IN FIRE, HER HAIR LOOKS JUST LIKE FLAMES. BEAUTIFUL.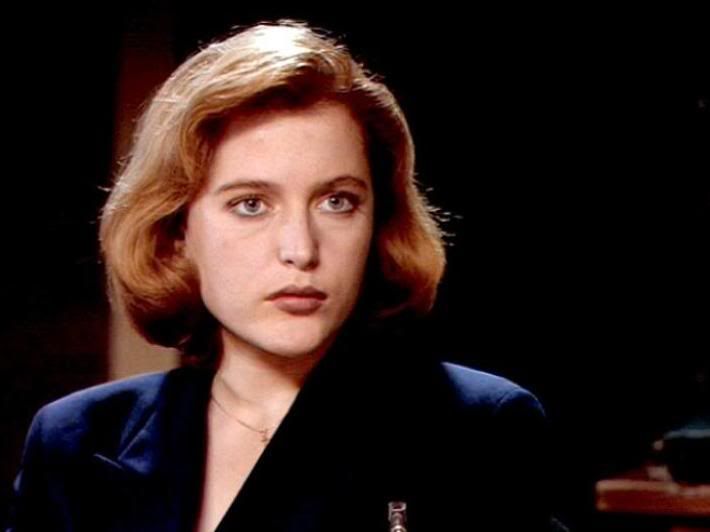 HER HAIR CURLS INWARD IN BEYOND THE SEA, WHICH IS NICE. ALSO, WE CAN SEE HER FOREHEAD.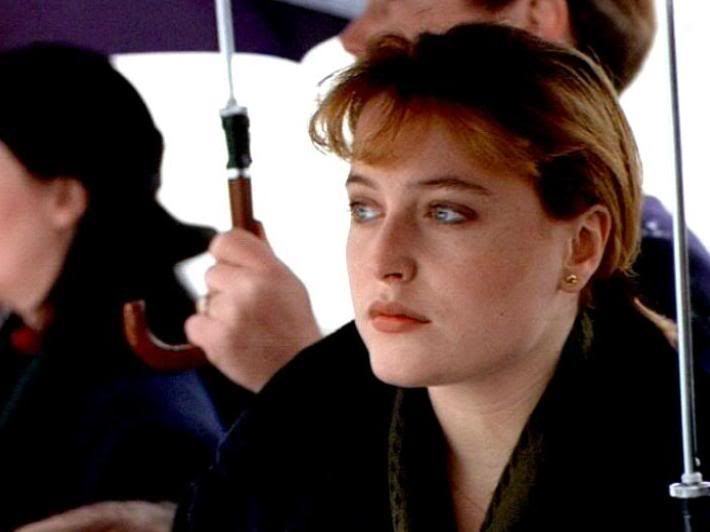 FOR HER FATHER'S FUNERAL, SCULLY PULLS HER HAIR BACK INTO A PONY TAIL, AND MAKES HER HAVE BANGS FULL ACROSS HER FOREHEAD, WHICH IS NICE.
WE CAN SEE HER FOREHEAD AGAIN!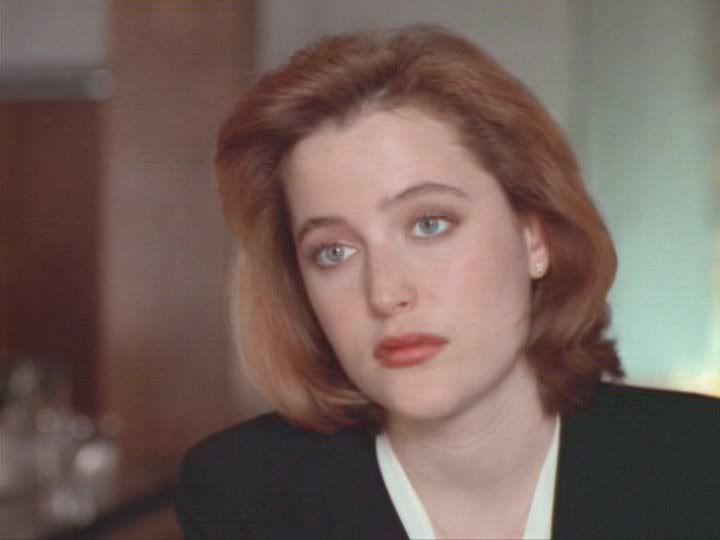 ONE SIDE OF HER HAIR CURLS INWARD, WHILE THE OTHER SIDE CURLS OUTWARD. THIS IS A MYSTERY.
ONCE AGAIN, ONE SIDE CURLS INWARD, AND THE OTHER SIDE CURLS OUTWARD.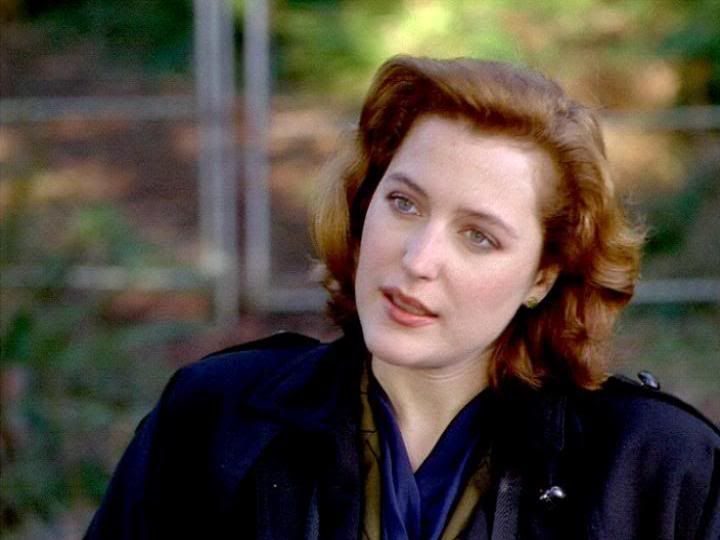 HATE HER DARTY SIDE PARTED HAIR, BUT LOVE THE WINDY LOOK. KEEP IT UP, SCULLY!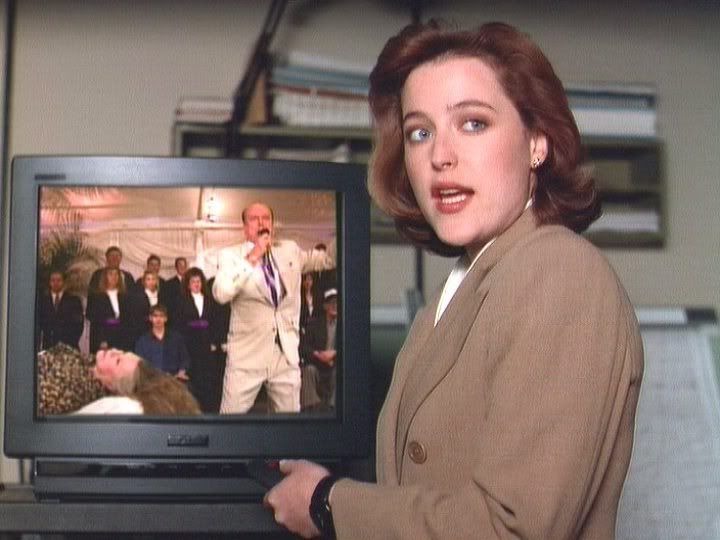 THE RETURN OF THE ONE SIDE IN, OTHER SIDE OUT LOOK.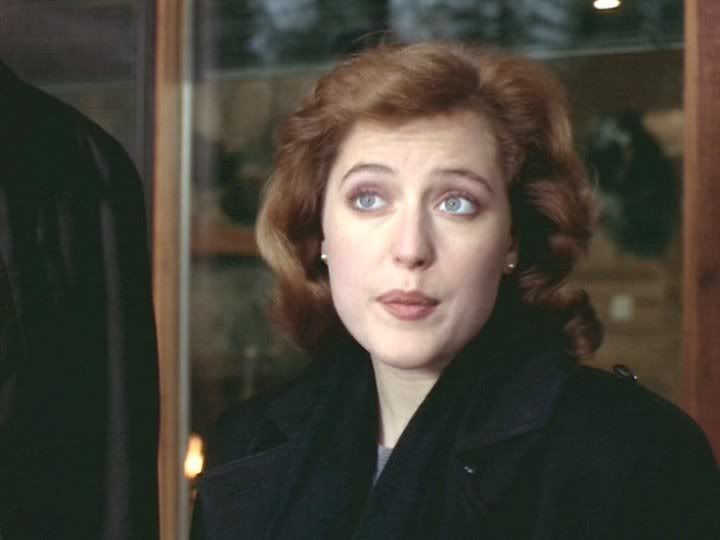 IN SHAPES, SCULLY'S HAIR IS CURLED, WHICH IS V V PRETTY. HOWEVER, HER LACK OF BANGS AT THE TOP OF HER HEAD MAKES KIND OF A POOFY DART.
NO BANGS! AND EACH SIDE IS CURLED OUTWARD! LOOKS LIKE SHE SOLVED THE MYSTERY!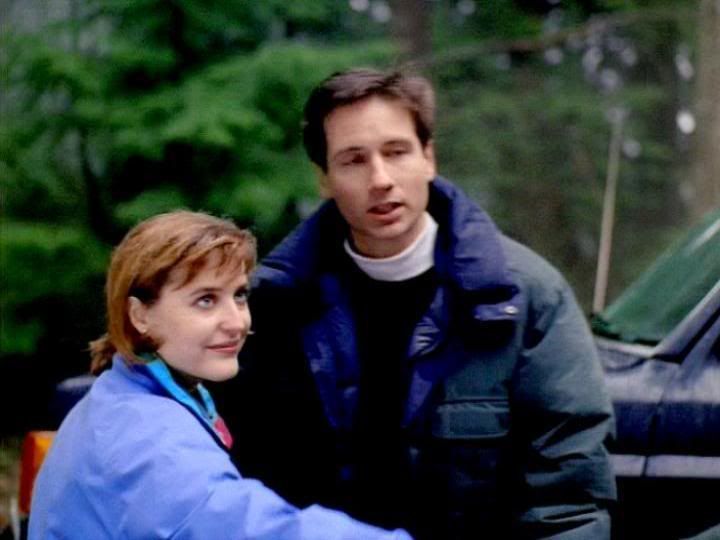 AGAIN HER HAIR IS PULLED BACK INTO A PONY TAIL, AND HER BANGS ARE NICE AND EVEN, EVEN IF PARTED TO THE SIDE A LITTLE BIT.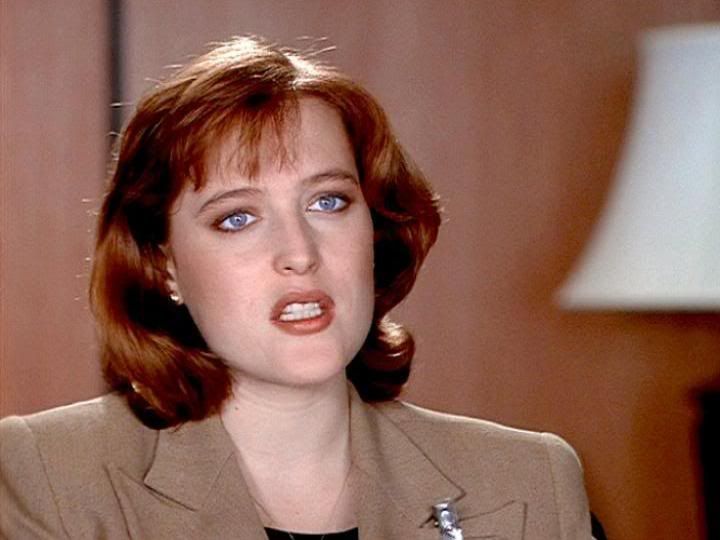 THE INTRODUCTION OF THE HALF-BANGS. NGUGH. AND THE RETURN OF THE OUT-IN HAIR FLIPS.
HER HAIR IS LONGER IN TOOMS, AND WE CAN ALMOST (ALMOST!) FORGET ABOUT HER HALF BANGS.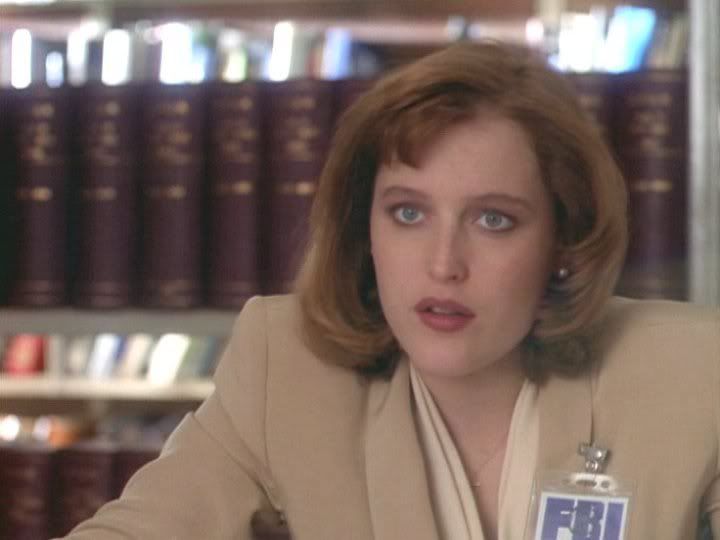 MORE OUT-IN HAIR FLIPS.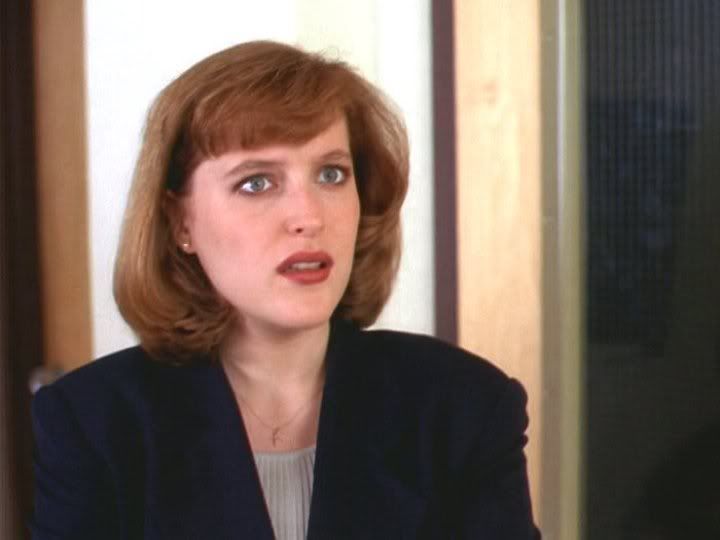 ALL IN FLIPS!! AND MORE BANGS. LOOKS LIKE SHE'S RECONSIDERED THE TINY LITTLE BANGS SHE'S BEEN TOTING ABOUT TOWN!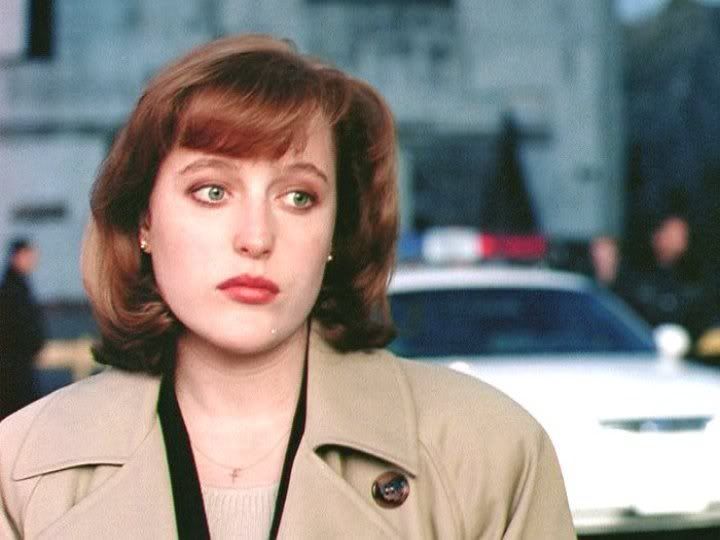 GOD, SCULLY. WHAT IS WITH THE ELEVATED HAIR?
CONCLUSION: SCULLY WASHES HER HAIR EVERY SINGLE DAY, AND USES SUPER VOLUMIZING SHAMPOO AND CONDITIONER. SHE DOES NOT USE A CURLING IRON OR A HAIR-DRYER.
LET'S TAKE A TRIP DOWN MEMORY LANE AND REMEMBER ALL OF THE DIFFERENT HAIR STYLES SCULLY HAS HAD OVER THE YEARS. TODAY WE WILL BE FOCUSING ON SEASON ONE, ALSO KNOWN AS THE EARLY 90S.